Potato Sprouts Corn Chaat Recipe
Potato Sprouts Corn Chaat Recipe. Potato Sprouts Corn Chaat is a flavorful chaat which is ready under 30 minutes. Everyone loves corn, and when added with potatoes and fledglings, it simply becomes difficult to stand up to. Assuming you are wanting something chatpata on a blustery day, evaluate this lip smacking chaat.
This formula makes for an incredible side dish on extraordinary events like pot karma, kitty parties, picnics as well as an evening nibble on an end of the week. This light however satisfying tidbit can be savored as an in the middle between work nibble also. This simple to make formula expects you to just combine the fixings as one, and you would have the chaat prepared.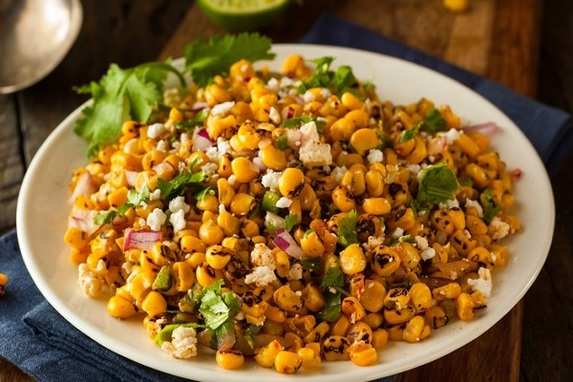 Exhausted of the typical papdi chaat, corn chaat, sprout chaat, attempt this formula and shock your friends and family with your assorted culinary abilities. In addition to an enjoyment to the taste buds, this formula is likewise amazing to give you every one of the fundamental supplements like protein, magnesium, L-ascorbic acid and strands.
This extraordinary chaat formula will be delighted in by children and grown-ups the same. This dish tastes best with a steaming hot cup of tea or espresso and obviously the organization of your friends and family. Evaluate this yummilicious chaat and appreciate with your loved ones.
Fixings required for making Potato Sprouts Corn Chaat Recipe
2 pieces green bean stew
1 cup bubbled grew moong
1 tablespoon lemon juice
1 teaspoon sugar
1 1/2 cup beaten yogurt (curd)
1/2 cup hacked onion

1 tablespoon refined oil
salt as required
1 cup boiled,crushed corn
1 cup boiled,chopped potato
2 cloves garlic

chaat masala as required
For Garnishing
2 teaspoon coriander leaves
Potato Sprouts Corn Chaat Recipe
Step by step instructions to make Potato Sprouts Corn Chaat Recipe
Stage 1 Prepare the masala corn
To make this fiery chaat, we start with setting up the masala corn. In a container, heat oil and add the squashed corn. To this add ginger, garlic, salt, lemon squeeze and sugar. Blend all fixings well. Keep the blend to cool.
Stage 2 Prepare the chaat
Next we begin making the chaat. In a plate blend grew moong daal, potatoes, masala corn and onions. Cover this blend with curd.
Stage 3 Garnish and serve
To the arranged chaat add chaat masala to taste. Decorate with coriander leaves and serve.
Article you might like