Shitake and Filo Mille Feuille Recipe
Shitake and Filo Mille Feuille Recipe. A heavenly starter recipe, Shitake and Filo Mille Feuille with Red Pepper Pesto is an Asian cooking. Set up this simple mushroom recipe for your visitors on extraordinary events like kitty party and commemoration. It makes for an extraordinary winter recipe that you can appreciate with your friends and family.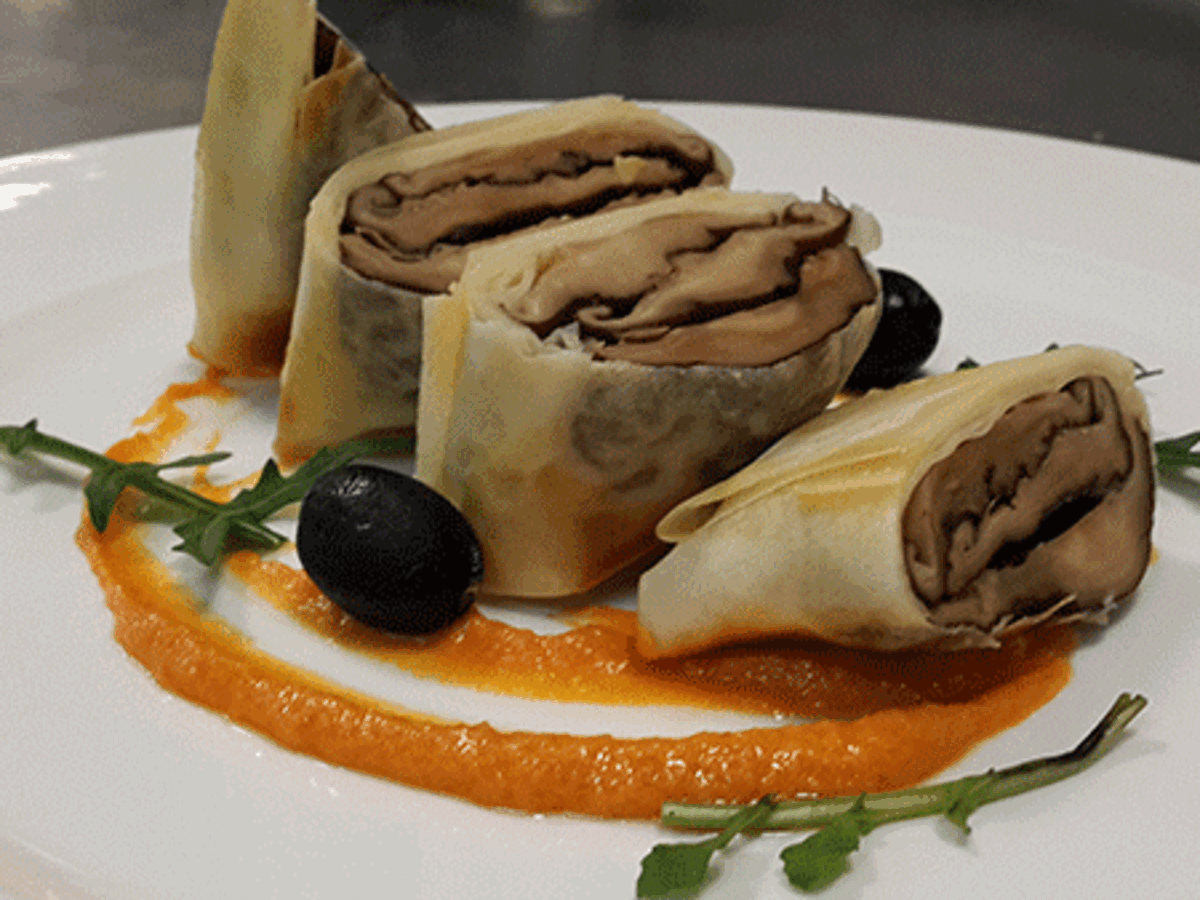 Elements of Shitake and Filo Mille Feuille
2 Servings
60 gm soaked,drained mushroom
100 ml red wine
40 gm red peppers
40 ml olive oil pomace
10 gm slashed garlic
2 branch slashed rosemary leaves
1 1/2 cup Water
20 gm slashed shallots (little onions)
4 filo baked good
30 gm pine nuts
20 gm bread-white
20 gm softened margarine
100 gm ground parmesan cheddar
For Garnishing
2 divided dark olives
Shitake and Filo Mille Feuille Recipe
Step by step instructions to make Shitake and Filo Mille Feuille
Stage 1
For setting up this yummy starter, take new Shitake mushroom, while possibly not new, it tends to be utilized in dried structure moreover. Absorb the mushrooms warm water for around 1 hour until it gets delicate. Channel and dry the mushrooms.
Stage 2
Presently sauté the mushrooms with red wine, shallots, rosemary, and garlic for around 3-4 minutes. After the mushrooms are cooked, put it up for refrigeration or you can likewise put it under an ice shower.
Stage 3
Then, at that point, cut the filo sheets in a slick square and brush the edges of filo cake with softened spread. Presently layer the frosted shitake perfectly on top of the lined filo cake.
Stage 4
Overlay the filo sheets from every one of the sides like a bundle and freeze those packages in a cooler.
Stage 5
While the filo sheets are freezing, broil the red pepper in a moderate stove at 180 degrees centigrade for 20 minutes, and save it in a covered compartment for 10 minutes. Presently de-skin the peppers.
Stage 6
Mix the cooked red peppers with pine nuts, Parmesan cheddar, olive oil and new bread to make red pepper pesto, and season and keep it cold.
Stage 7
Heat the filo bundles at 200 degree centigrade for just about 15 minutes. After the packages are heated, cut them and plate it with the newly pre-arranged red pepper pesto and dark olive.
Article you might like