Kala Chana Chaat Recipe
Kala Chana Chaat Recipe. Kala Chana Chaat (Black Chickpeas Chaat) is a sound and delightful nibble formula for any event. This chaat formula is ideal to serve to kids as an easy to-make after-school nibble. Grown-ups too can have it as a speedy and nutritious bite. As the name recommends, dark chickpea or kala chana is the fundamental fixing which is utilized in this formula.
Kala chana is wealthy in proteins, while the crude mango, pomegranate and lemon adds prepared flavor to the chaat. Additionally the cooking technique utilized here is bubbling, which holds the supplements of the fixings. You can attempt an alternate variety of this formula by adding curd to the chaat. Attempt this heavenly and simple to-make formula.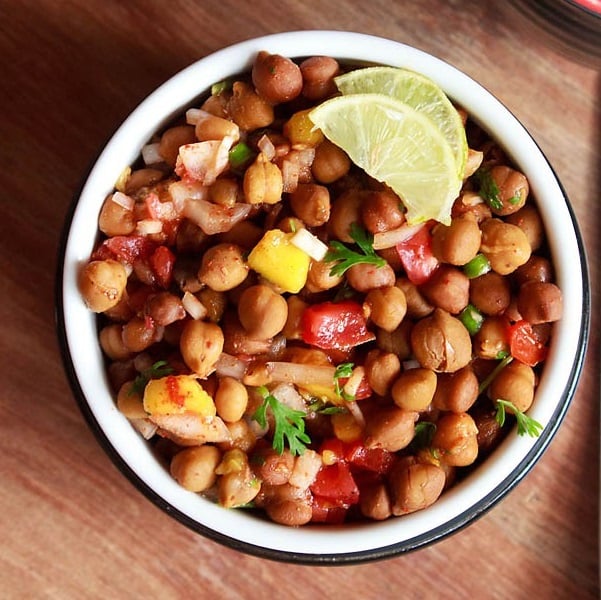 Fixings required for making Kala Chana Chaat Recipe
2 cup kala chana
salt as required
2 teaspoon chaat masala
1/2 teaspoon dark salt
1 bubbled potato

1/2 cup cleaved onion
3 teaspoon lemon juice
1 teaspoon dry mango powder
2 teaspoon stew powder
1/2 hacked crude mango
1/2 cup cleaved tomato

For Garnishing
1 small bunch mint leaves
1/2 cup pomegranate seeds
1 small bunch coriander leaves
couscous as required
Kala Chana Chaat Recipe
Instructions to make Kala Chana Chaat Recipe
Stage 1
Wash kala chana (dark chickpea) and absorb them adequate water for the time being. Then bubble them in a strain cooker for four whistles. Once bubbled, keep them to the side and let it cool.
Stage 2
Presently, take a bowl and add the bubbled kala chana, onions, tomatoes, potatoes and crude mangoes. Blend them well. Then add bean stew powder, dark salt, chaat masala, dry mango powder and salt. Blend every one of the fixings well.
Stage 3
Decorate with pomegranate seeds, couscous (discretionary) slashed coriander and mint leaves. Sprinkle lemon juice over the combination and serve!
Article you might like